Partner website: Vienna city tours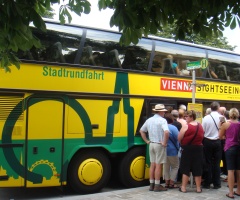 There are many different ways to discover the city of Vienna during a sightseeing tour. The Vienna city tours website presents you several possible sightseeing itineraries by different means of transportation, for example city tours by bus, by Danube river boat, by horse-drawn carriage, by bicycle and by segway.
Some of the mentioned Vienna city sightseeing tours are available at determined dates and can be booked by individual travellers, other city tours to Vienna can only be reserved as private sightseeing excursions for groups. Besides the city tours themselves, Vienna city tours does also propose other kinds of tourism service, especially professional Vienna guide service and driver guide service as well as help with the organisation and management of journeys and trips to Vienna.
Further below, you will find a short description of some tourism related services proposed by Vienna city tours. If you need more details, please visit the Vienna city tours website and follow the links to the different city sightseeing tour options available in Vienna.
Vienna city tours by bus
There are two different ways to discover Vienna during a city sightseeing tour by bus: individual travellers and small groups may join a public city tour, larger groups and VIP travellers may book exclusive bus tours. Of course, small groups of up to eight persons can also book minibus sightseeing tours with driverguide and/or tourguide. The Vienna city tours website gives detailed information about all these possibilities, lists the dates and times for public city tours and facilitates a quick and easy booking of private bus tours and minibus tours in Vienna.
Danube river cruises
Even though old Vienna is not built on both sides of the Danube river but rather on the southern shore of the river, Danube river cruises by boat are a popular addition to city sightseeing tours by bus. There are scheduled departures for the public, and it is also possible to charter Danube river boats for exclusive rides and tours. Additionally, the Vienna city tours website provides information about river boat excursions from Vienna to Bratislava and Budapest.
Tramway city tours in Vienna
Another interesting possibility to discover the city of Vienna during a sightseeing tour is to book a city tour by tramway. The Vienna city tours website proposes three kinds of tramway tours: with public tramway lines, in an exclusively booked oldtimer tramway waggon or on board of the imperial lounge car of the "Badner Bahn" railway. To rent an oldtimer tramway train for a sightseeing tour is a particularly innovative idea for the event program of meetings and conferences in Vienna.
---
Become a partner of the treasury website?
Do you like how we describe our partner websites? Are you owner of a high quality website with information that might be of interest to our readers? If so, the staff of the treasury website would be pleased to hear from you. You can reach us by phone at +43 1 966 02 61 or write us an email to .