Partner website: Fiaker carriage rides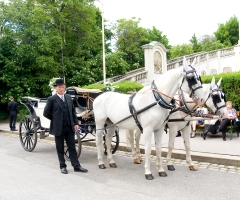 One of the most famous symbols of Vienna is the horse-drawn Fiaker carriage that is nowadays particularly popular for transfers and nostalgic sightseeing tours as well as for passenger transportation in the context of weddings and events in Vienna. Our partner website Fiaker.co.at offers different types of carriage sightseeing tours to Vienna and can also provide you with carriages in Salzburg and Innsbruck.
The carriage rides that are available in Vienna include classical sightseeing tours to the old town of Vienna as well as romantic Fiaker carriage tours composed of a one-hour ride through the old town and a subsequent tour through the solitary alleys in the Prater park. The service price includes a warm blanket, a cool bottle of sparkling wine with two glasses and a maximum level of discretion; the rest is entirely up to you. Additionnally, the Fiaker carriage agency does also propose to organize carriage transfers within the city center and passenger transportation by carriages during weddings and other events in Vienna.
Further below, you will find a brief description of some possible carriage tours and transfers. If you want to learn more about any of the listed services, please visit the Austrian carriage website and follow the links to the respective carriage services in Austria.
Fiaker carriage tours in Vienna
In Vienna, the carriage rental service Fiaker.co.at proposes the possibility to book carriage sightseeing tours as a nostalgic alternative to city sightseeing tours by bus or minivan. Such sightseeing tours by carriage can start at one of the traditional carriage meeting points at one of the four squares Albertinaplatz, Heldenplatz, Stephansplatz and Petersplatz as well as at any other meeting point such as hotels and restaurants in the old town of Vienna. Furthermore, you can also book carriage transfers between any two points within Vienna and order specially decorated Fiaker carriages with or without catering service on board.
Fiaker carriage tours in Salzburg
Regarding carriage rides in Salzburg, our partner agency Fiaker.co.at offers city sightseeing tours in Salzburg as well as carriage excursions to the palaces of Hellbrunn and Leopoldskron and fiaker transfers for any purpose including weddings in Salzburg.
Rent carriages in Innsbruck
The third Austrian city besides Vienna and Salzburg that is famous for its Fiaker carriages is Innsbruck. A special advantage of carriage rides in Innsbruck is that a carriage is allowed to enter the old town of Innsbruck within special timeframes, a privilege that is not accorded to other means of transportation. This way, the visitor can enjoy Innsbruck's city centre from a very unusual perspective.
---
Become a partner of the treasury website!
Do you like the way how we describe our partner websites? Are you interested in presenting your website in the same manner? Then please contact us at +43 1 966 02 61 or to discuss the possibilities of a partnership with our site!