Partner Website: Vienna Guides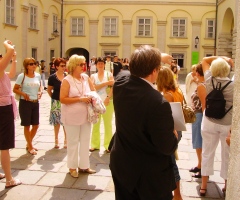 The professional tourguides of Vienna Guides offer all kinds of guided sightseeing tours in English in the city of Vienna, Austria, for tourists as well as for Viennese, including classical guided tours as well as themed city walks and city sightseeing tours by bus or minibus and sightseeing excursions to Vienna's surroundings.
Guided city walks
The website of Vienna Guides offers you the possibility to hire an Austrian tourguide for a guided city walk in the language of your choice, for instance in English. You can choose between the classical city walk "Vienna at first glance" for a general overview of the city of Vienna and several more detailed guided walking tours, for example the walking tour "Vienna at second glance" which is suitable even for Vienna's inhabitants. Thanks to its numerous languages and its great variety of guided tours, the service offer of Vienna Guides is ideal for any kind of group!
City sightseeing tours
The English speaking tourguides of Vienna Guides are also at your disposition for private city sightseeing tours to the city of Vienna and to help you discover Vienna's most important tourist attractions. They offer you classical city tours by bus or minivan, themed sightseeing tours by bus or minivan as well as city tours by limousine and carriage. According to your knowledge about the city of Vienna, its history and culture and based upon your personal interests, you may choose between a general overview tour and various special tours upon specific topics.
By the way: if you wish, you can also book sightseeing excursions by chauffeur-driven buses with professional Austrian tourguides. Discover the Vienna Woods, the Danube valley, the city of Baden bei Wien or even Salzburg with a professional English speaking tourguide from Vienna!
Whatever kind of tour guide service you might be looking for, Vienna Guides will provide you with professional English speaking tourist guides or help you book guide services in a language of your choice for your visit to Vienna and its surroundings by foot, by bus or by carriage.
---
A partnership with the imperial treasury website?
Do you like the manner in which we present the websites of our partners and are you in possession of a quality website proposing information that might be of interest to our readers? In this case, the redactional staff of our website about the imperial treasury would be pleased to discuss a partnership: please don't hesitate to get in touch with us at +43 1 966 02 61 or !